It's Not Me It's You
Studio album by Lily Allen
Released
4th February 2009
Recorded
2008
Length
43:12
Label
Regal, Parlophone
Produced by
Greg Kurstin
It's Not Me, It's You is the second studio album by recording artist Lily Allen. It was released on the 4th February 2009 and went triple platinum.
BACKGROUND
Edit
In April 2008, Allen announced that she was moving in a "new direction" on her upcoming record. A year later, she described the album's sound in the April 2009 issue of Teen Vogue, saying it was "quite fun" and had "loads of different types of music—country, jazz, and electronic." She continued on to say, "I wanted to do something danceable, to make the gigs more interesting for me and the people watching."
Allen recorded most of the album at Eagle Rock Studios in Los Angeles with producer Greg Kurstin of the band The Bird and the Bee. Of the songwriting process, she said "Greg builds the chords up and I just sing along and make up the words and then once you've got the bare song, we decide which way we're gonna go with the production." They began recording in the autumn of 2007, with Allen declaring:
We decided to try and make bigger sounding, more ethereal songs, real songs. I wanted to work with one person from start to finish to make it one body of work. I wanted it to feel like it had some sort of integrity. I think the first song we did was "I Could Say". That set the tone for the whole album. I think I've grown up a bit as a person and I hope it reflects that.
PROMOTIONAL SINGLES
Edit
"Womanizer" (Britney Spears cover)
TRACK LISTING
Edit
STANDARD EDITION
Edit
| | | | |
| --- | --- | --- | --- |
| No. | Title | Writer | Length |
| 1 | "Everyone's At It" | Lily Allen, Greg Kurstin | 4:38 |
| 2 | "The Fear" | Allen, Kurstin | 3:27 |
| 3 | "Not Fair" | Allen, Kurstin | 3:21 |
| 4 | "22" | Allen, Kurstin | 3:06 |
| 5 | "I Could Say" | Allen, Kurstin | 4:04 |
| 6 | "Back to the Start" | Allen, Kurstin | 4:14 |
| 7 | "Never Gonna Happen" | Allen, Kurstin | 3:27 |
| 8 | "Fuck You" | Allen, Kurstin | 3:43 |
| 9 | "Who'd Have Known" | Allen, Kurstin, Take That, Steve Robson | 3:50 |
| 10 | "Chinese" | Allen, Kurstin | 3:28 |
| 11 | "Him" | Allen, Kurstin | 3:18 |
| 12 | "He Wasn't There" | Allen, Kurstin | 2:51 |
SPECIAL EDITION BONUS TRACKS
Edit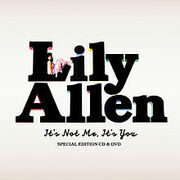 | | | |
| --- | --- | --- |
| No. | Title | Length |
| 13 | "The Fear" (Acoustic) | 3:28 |
| 14 | "22" (Acoustic) | 3:08 |
| 15 | "Who'd Have Known" (Acoustic) | 3:58 |
| 16 | "He Wasn't There" (Acoustic) | 2:57 |
| 17 | "I Could Say" (Acoustic) | 3:57 |
| 18 | "Womanizer" (Britney Spears cover) | 3:33 |
| 19 | "Mr. Blue Sky" | 3:42 |
| 20 | "The Count and Lily Face the Fear" | 4:21 |
| 21 | "Not Fair" (Style of Eye Remix) | 6:18 |
SPECIAL EDITION BONUS DVD
Edit
| | |
| --- | --- |
| No. | Title |
| 1 | "Everyone's At It" (Live) |
| 2 | "LDN" (Live) |
| 3 | "Not Fair" (Live) |
| 4 | "Him" (Live) |
| 5 | "He Wasn't There" (Live) |
| 6 | "Littlest Things" (Live) |
| 7 | "Smile" (Live) |
| 8 | "The Fear" (Live) |
| 9 | "It's Not Me, It's You" (Track by Track interview) |
| 10 | "The Fear" (music video) |
| 11 | "Not Fair" (music video) |
| 12 | "22" (music video) |
| 13 | "Fuck You" (music video) |